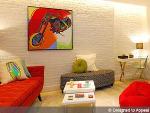 by Jeannie Merrick, President (Real Estate Broker)

Home staging can influence buyers' perceptions of a home and even motivate them to pay more, according to the National Association of Realtors® 2015 Profile of Home Staging, a survey of more than 2,300 Realtors representing buyers and sellers. Eighty-one percent who represent buyers say that staged homes make it easier for their home buyers to visualize a property as their future home.Forty-six percent of buyer agents also reported that staging makes their buyers more willing to tour a home they viewed online, and 45 percent say that buyers tend to view the value of the home more positively if it is decorated to buyers' tastes.
Twenty-eight percent of agents said their buyers are even more willing to overlook other property faults if a home is staged, according to NAR's survey.Buyer agents also say that staging can potentially influence how much their buyers are willing to offer for a home.According to the survey thirty-two percent of buyer agents surveyed say that staged homes increase the dollar value buyers are willing to offer for a home by 1 percent to 5 percent; 16 percent said it could increase offers by 6 percent to 10 percent.Forty-four percent of seller agents say they only suggest that sellers de-clutter and fix property faults, and they do not recommend that their clients should professionally stage the home.
Source: NAR