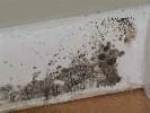 by Jeannie Merrick, President (Real Estate Broker)
When you see the grayish-black discolorations on your baseboard, or wall these might be molds.Here is an article by Dr. Nathan Yost, MD.Building Sciences Corporation on Frequently Asked Questions About Mold.
What causes mold to develop?

Mold requires nutrients, water, oxygen and favorable temperatures to grow. Nutrients for mold are present in dead organic material such as wood, paper or fabrics; mold can also derive nutrients from some synthetic products such as paints and adhesives. Mold requires moisture, although some mold species can obtain that moisture from moist air when the relative humidity is above 70 per cent. Many molds thrive at normal indoor temperatures; few if any molds are able to grow below 40 F or above 100 F. Outside this range molds may remain dormant or inactive; they may begin to grow again when the temperature is more favorable. Temperatures well above 100 F will kill mold and mold spores, but the exact temperature required to kill specific species is not well established.
How much mold exposure is harmful?

No one knows the answer to this question for several reasons. Individuals are very different with respect to the amount of mold exposure they can tolerate. Children under the age of one year may be more susceptible to the effects of some molds than older individuals. Measuring or estimating "exposure" levels is very difficult. "Exposure" means the amount of mold (microscopic spores and mold fragments) that gets into a person usually by breathing, but also by eating or absorption through the skin. For example, a building may have a lot of mold in the walls but very little of that mold is getting into the air stream. In that case the people working or living in that building would have little mold exposure.


Can mold exposure cause brain damage or death?

Although some "experts" claim that individuals have brain damage or have died because of exposure to mold and especially mold toxins, there is no good science at this time to support these claims. Consequently it is prudent to minimize one's exposure to really moldy environments. By "really moldy" we mean where there are large visible areas of mold (more than a few square feet) or the building has a "musty" odor because of hidden mold growth. There are many epidemiological studies showing that people who live in houses with dampness have many more health problems, especially respiratory, than do people who live in dry houses. This association does not "prove" that it is the mold that is responsible for the increase in illness. However, it does support the assertion that it is not wise to live in damp, moldy buildings.

If mold is present, what's the best way to get rid of it?

The answer depends on how much mold is present and where it is located. If the mold is on furnishings or boxes simply discard the materials. Moldy materials are not considered hazardous waste; they can be sent to a regular landfill. However, it is smart to seal the mold material in heavy plastic to protect the people who handle it in transit and prevent spreading large amounts of the mold into the building as you carry the material out of it.

If the mold is on a hard surface but occupies less than 10 square feet wash the area with soapy water (scrubbing with a brush may be necessary), rinse and allow the area to dry before repainting. If you have asthma, severe allergies and a weaken immune system get someone else to do the clean up.

Larger areas (greater than 10 square feet in area) should be cleaned by someone with experience in doing this type of work. Remember, determine what caused the moisture problem and correct that problem. Otherwise, mold is likely to recur.


Read more about molds at Frequently Asked Questions About Mold By Dr. Nathan Yost, MD.Building Sciences Corporation.